Ten Mile Creek Forge, Pottery, Lighting & Gift Shop LLC
Maureen Potvin, Manager
Open Year Round!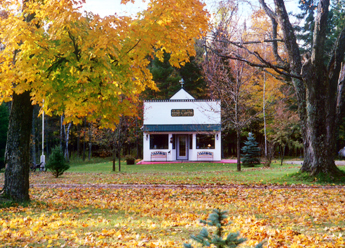 Leave the crowds behind and visit our Unique Irish/Celtic Country Gift Shop...you will be pleasantly surprised! Specializing in Hand-forged and completely hand-made knives/sheaths. Artwork of 30 juried local artists and much more. Irish crystal, Mullingar pewter, Guinness, Belleek, jewelry, Irish-Celtic Jewelry, Celtic CDs, bath & beauty, perfumes, colognes, hand-blown glass, stained glass, hand-made purses, raku, smoke-fire pottery and beautiful, functional pottery, hand scrimshaw, blacksmithing & tool sharpening, restorative work, copper work, wood and soapstone carving, watercolor, photography, quilting, basketry, candles, Gallery Graphics, Lang, Cape Shore, Christmas ornaments, and Watkins fine products. Follow sign in Bark River for 7 miles. It is a beautiful drive and lovely setting. Leave the crowds behind! Open every day but Thursdays and Sundays...10AM til 6PM Eastern. We are closed occasionally for meetings, appointments, vacation, etc. Please call for certainty, if desired. Contact us for a special appointment if these hours aren't convenient for you.
VISA/MC/DISCOVER/MCDINERS/AMEXP accepted. Map also on our website.

Ten Mile Creek Forge, Pottery, Lighting & Gift Shop LLC
1691 17th Road
Bark River, MI 49807-9553